Mediterra – Lucarno Neighborhood
Posted:
Mediterra – Lucarno Neighborhood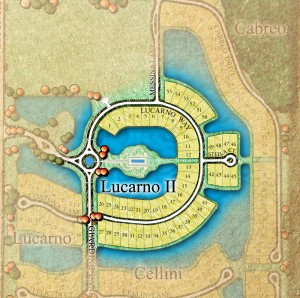 As you wander the Mediterra – Lucarno Neighborhood winding cobblestone streets, east of Livingston Road, marveling at homes embellished with stone entry walls, tile accents and intimate courtyards – you'll imagine yourself in a quaint European village. This picturesque lakefront neighborhood is a quick stroll to Mediterra's Parterre Gardens, an exceptional park for the senses with formal sculpted gardens that change annually, frog statues squirting into the reflection pools, fountains and quiet sitting areas poised perfectly to sweeping vistas. Lucarno's maintenance-free villas are as beautiful as they are inviting, each located along one of several lakes. These lakeside homes range from 2,500 square feet to more than 4,000 square feet and provide a wide range of opportunities to add your personal touch to the individual floor plans.
The seven floor plans included in the Mediterra – Cortile Neighborhood: